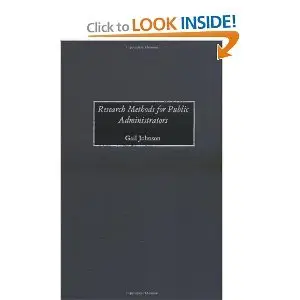 Research Methods for Public Administrators
Quorum Books | July 30, 2002 | ISBN-10: 156720449X | 280 pages | CHM | 1.7 MB
Without jargon or mathematical theory to hinder a quick understanding and use, here are the research tools and techniques you can grasp and immediately apply to obtain research services from others or do research yourself. Johnson makes clear that to succeed in any public agency management position, you have to be able to think analytically and know how to assess the quality of research results. By providing the underlying concepts and just enough methodology to operationalize them, she gives you exactly what you need–in a clear, straightforward way that takes the fear out of learning. You will find here an especially wide range of practical guidelines and examples, all from the author's own and others' experiences in a variety of settings within the public sector.