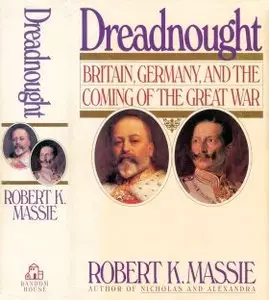 Robert K. Massie, "Dreadnought; Britain, Germany, and the Coming of the Great War"
Random House | 1991 | ISBN: 0394528336 | 1054 pgs. | PDF | 120MB, 120MB
The author of the best-seller
Nicholas and Alexandra
and the Pulitzer Prize-winning
Peter the Great
has written a richly textured and gripping chronicle of the personal and national rivalries that led to the first great arms race. The British disdained continental alliances and prided themselves on their "Splendid Isolation." But the expanding German fleet was an ominous threat across the North Sea. Britain reached out to her two historic antagonists, France and Russia, and their understandings ripened into the Triple Entente that entered the First World War. Massie paints a mulitdimensional canvas with a crowd of glittering figures: Queen Victoria, the Kaiser, Edward VII, Chancellor von Bulow, Admrial Jacky Fisher, and others.
RapidShare1
RapidShare2