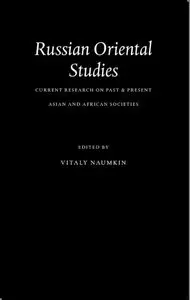 Vitaly Naumkin, "Russina Oriental Studies"
Publisher: Brill Academic Publishers | 2004-01 | ISBN 9004132031 | PDF | 302 pages | 1.0 MB
This collection of articles by leading Russian Orientalists, from different universities and research institutes of Russia, covers a wide range of research fields: politics and power, history, economics and society, language, philosophy and culture.
The Russian authors base their works on rare sources. They examine here ancient and medieval history and culture of Oriental societies including articles on Indian mythology, kalam in Islam, classical Indonesian concepts of monarchy, Caucasus in the Abbasid period etc. There will also be a focus on modern Asian and African societies with articles on agriculture in India, monarchy in Cambodia, kleptocracy in Africa, Chinese migration to Siberia etc.). Furthermore in this volume, cultural vocabularies and sacred texts will be analysed.
The volume will be useful for all academics and students interested in Asia and Africa.