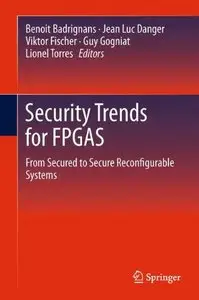 Benoit Badrignans, Jean Luc Danger, Viktor Fischer, Guy Gogniat, Lionel Torres, "Security Trends for FPGAS: From Secured to Secure Reconfigurable Systems"
Publisher: Springer | ISBN 10: 9400713371 | 2011 | PDF | 272 pages | 4.1 MB
In Security Trends for FPGA's the authors present an analysis of current threats against embedded systems and especially FPGAs. They discuss about requirements according to the FIPS standard in order to build a secure system. This point is of paramount importance as it guarantees the level of security of a system. Also highlighted are current vulnerabilities of FPGAs at all the levels of the security pyramid. It is essential from a design point of view to be aware of all the levels in order to provide a comprehensive solution. The strength of a system is defined by its weakest point; there is no reason to enhance other protection means, if the weakest point remains untreated. Many severe attacks have considered this weakness in order not to face brute force attack complexity. Several solutions are proposed in Security Trends for FPGA's especially at the logical, architecture and system levels in order to provide a global solution.