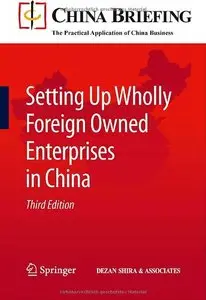 Chris Devonshire-Ellis, Andy Scott, Sam Woollard, "Setting Up Wholly Foreign Owned Enterprises in China (China Briefing)"
Publisher: Springer | ISBN 10: 3642155391 | 2011 | PDF | 99 pages | 1.2 MB
Do you want to manufacture or trade in China? If you are looking at investing in a China manufacturing or service operation in China, then this book is for you. This Guide is a practical overview for the international businessman to understand the rules, regulations and management issues regarding establishing wholly foreign owned enterprises in China. We will help you to understand the implications of what can initially appear be a complicated and contradictory subject. This book tells you the basics of what you need to know, and point you at the structures you should use as well as some of the pitfalls. This book is the second in our new series of books on doing business in China, which will progressively cover such topics as setting up joint ventures, tax, IP and many other vital issues for foreign investors in this exciting market.