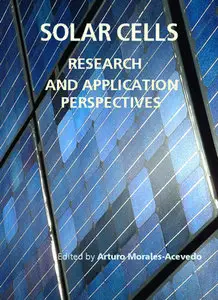 "Solar Cells: Research and Application Perspectives" ed. by Arturo Morales-Acevedo
ITAe | 2013 | ISBN: 9535110039 9789535110033 | 386 pages | PDF | 24 MB
This book intends to contribute to such a purpose by covering a wide range of modern research topics in the solar cell physics and technology fields.
The already established -1st generation- silicon solar cell technology, the 2nd generation thin film and the 3rd generation dye sensitized solar cells, including new technologies with very high perspectives for reducing the cost of solar electricity such as CZTS, organic polymer and tandem solar cells based on III-V compounds -under concentrated sunlight- are studied in this book by experts in the field from around the world.
Contents
Preface
Chapter 1 Optimization of Third Generation Nanostructured Silicon-Based Solar Cells
Chapter 2 Silicon Solar Cells with Nanoporous Silicon Layer
Chapter 3 Influence of Surface Treatment on the Conversion Efficiency ofThin-Film a-Si:H Solar Cells on a Stainless Steel Substrate
Chapter 4 Polycrystalline Cu(lnGa)Se2/CdS Thin Film Solar Cells Made by New Precursors
Chapter 5 Cu2ZnSnS4 Thin Film Solar Cells: Present Status and Future Prospects
Chapter 6 Thin Film Solar Cells Using Earth-Abundant Materials
Chapter 7 Enhancing the Light Harvesting Capacity of the Photoanode Films in Dye-Sensitized Solar Cells
Chapter 8 Metal Oxide Nanomaterials, Conducting Polymers and Their Nanocomposites for Solar Energy
Chapter 9 Investigation of Organic Bulk Heterojunction Solar Cells from Optical Aspect
hapter 10 GaAsN Grown by Chemical Beam Epitaxy for Solar Cell Application
Chapter 11 Solar Cell Efficiency vs. Module Power Output: Simulation of a Solar Cell in a CPV Module
Chapter 12 Electric Energy Management and Engineering in Solar Cell System
Chapter 13 Effect of Source Impedance on Hybrid Wind and Solar Power System
with TOC BookMarkLinks