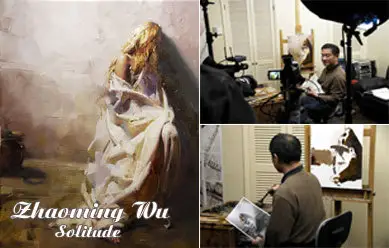 Solitude By Zhaoming Wu
AVI | mpeg4 415kbps | English | 720x544 | 29.97fps | 4h 39 mins | ac3 stereo 192kbps | 1.13 GB
Genre: Video Training
Zhaoming Wu is one of those artists, whose knowledge and talents merge into a convoluted path from the Nineteenth Century Masters down to us, today. He is currently one of the most valued faculty members of the San Francisco Academy of Art, and he instructs and mentors artists in the graduate program in representative painting and drawing. We had the great privilege of filming him in his home studio painting a lovely model swathed in cascading folds of material, a subject for which he is becoming known as a master painter. This is the first of three video programs we filmed during our sessions, and one you won't want to miss. Wu uniquely articulates what makes a painting, how he approaches the process, and how he works from the live model, the photo, and computer references in his gallery work. We are proud to add his name to our roster of master artists with whom you may never have the opportunity to work with on a personal level, and we believe he and the other Chinese artists who have come to our country have brought us a magnificent gift indeed. Don't miss collecting this important video for your reference library if you are a figurative artist. You will want to collect all his books and videos when you see the mastery under his brush.
"For the past two decades, many of the finest artists to enter the American art scene hail from China. The period of modernism held no influence over Chinese art schools, whose mentors were the Russian schools set up in the first half of the 20th Century. Ironically, the beauty and power of late 19th Century, western, realist art was saved by the Communist regime of the Soviet Union when it banned all modern art from its schools and Universities.
Despite great suppression of artistic experimentation, Western representative art was sanctioned and encouraged, and used to spread communist propaganda through the images of happy, working class figurative art to a people who could understand the painted images these paintings represented.
While our Western art culture disintegrated into abstraction and paint thrown on canvases with no content, the Russians and Chinese continued the study and practice of classical painting. With the easing of tensions between China and the West, many of the Chinese, trained in the classical style practiced by the Russians, immigrated to the United States and brought their long-lost expertise to America.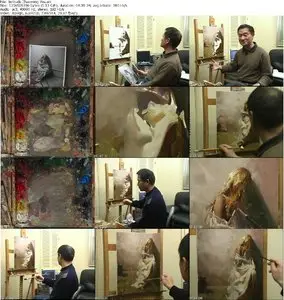 No mirrors please