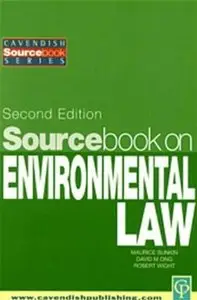 Sourcebook on Environmental Law
Routledge-Cavendish | November 30, 2001 | ISBN-10: 1859415865 | 800 pages | PDF | 3.6 MB
This new edition takes into account the latest developments in environmental law. It considers in detail the impact of the Human Rights Act 1998 upon UK Environmental Law, the new European Directives on the Landfill of Waste, Emissions of VOCs and limit values for Sulphur Dioxide. It includes updated and expanded commentary on the new contaminated land regime and UK implementation of the IPPC Directive, as well as a resume of the EC White Paper on Environmental Liability; UK environmental cases: R v North Yorkshire, the Cairngorms case and Savage v Fairclough. The book also examines the Bill on Access to the Countryside, which increases the protection of SSSIs. A new chapter on noise is included and the International law section has been thoroughly revised.