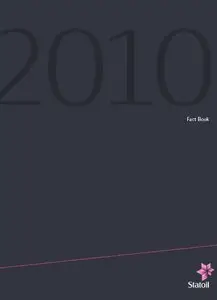 StatOil Factbook 2010
StatOil | 2011 | ISBN: n/a | 64 pages | PDF | 3 MB
Statoil is an integrated technology-based international energy company primarily focused on upstream oil and gas operations. This book are focusing on strategic areas where company has particular strengths: deep waters, gas value chains, harsh environments, and heavy oil.
Contents
1 Statoil group
1.1 This is who we are
1.2 Spotlight on key areas
1.3 Why invest in Statoil?
1.4 A glance at 2010
1.5 Key figures
1.6 Operational data
1.6.1 Oil and gas reserves by geographical areas
1.6.2 Oil and gas reserves additions
1.6.3 Oil and gas production
1.6.4 Oil and gas sales volumes
1.6.5 Development
1.7 Financial data
1.7.1 Profit and loss analysis
1.7.2 Exploration expenses
1.7.3 Segment performace analysis
1.7.4 Cash flow
1.7.5 Investments
1.7.6 Return on capital employed (ROACE)
1.7.7 Unit of production cost
1.7.8 Reconciliation of operating expenses to production cost
1.7.9 Calculation of capital employed
1.7.10 Overview of activities by country
1.7.11 Shareholder information
1.8 Consolidated financial statements
1.8.1 Income statement
1.8.2 Balance sheets, assets
1.8.3 Balance sheets, equity and liabilities
1.8.4 Cash flows, operating and investing activities
1.8.5 Cash flows, financing activities
2 Exploration and Production Norway
2.1 Operational data
2.1.1 Exploration
2.1.2 Oil and gas reserves
2.1.3 Oil and gas production per field
2.1.4 Oil and gas production per area
2.1.5 Development
2.2 Financial data
2.2.1 Profit and loss analysis
2.2.2 Exploration expenses
3 International Exploration and Production
3.1 Operational data
3.1.1 Oil and gas reserves
3.1.2 Oil and gas entitlement production
3.1.3 Oil and gas production per field
3.1.4 Oil and gas production per country
3.1.5 Development
3.2 Financial data
3.2.1 Profit and loss analysis
3.2.2 Exploration expenses
4 Natural gas
4.1 Operational data
4.1.1 Norway's gas transport system
4.1.2 Gas sales agreements
4.2 Financial data
4.2.1 Profit and loss analysis
5 Manufacturing and Marketing
5.1 Operational data
5.1.1 Manufacturing
5.2 Financial data
5.2.1 Profit and loss analysis
6 Statoil Fuel & Retail
7 Sustainability reporting
7.1 HSE performance indicators
7.2 Environmental posters
7.3 Social performance data
7.4 Employees in Statoil
with TOC BookMarkLinks