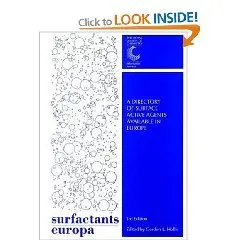 Surfactants Europa
Springer-Verlag Telos; 3rd edition | January 1996 | ISBN: 0854048049 | 459 pages | PDF | 34 Mb
Surfactants Europa 3rd Edition provides easy access to current product information on surface active agents (surfactants) manufactured and sold in Europe. It contains valuable data on approximately 9,000 trade names from more than 80 suppliers, including chemical description and composition, general property, application and manufacturer information.
The directory contains company and trade name indexes with page references, and provides a very useful listing of companies, with full contact details, including European divisions and agents.
The products listed in the directory find applications in a wide variety of branches of the chemical manufacturing industry including detergent and cleaning products, agrochemicals, construction, cosmetics, food, oil, paint, paper, pharmaceuticals, plastics and textiles.
The directory is edited by Dr Gordon Hollis, an established consultant in the surfactants field and author of four respected surfactants directories.
Surfactants Europa 3rd Edition will be an essential reference directory for research and development personnel and laboratory staff in general. It will also be useful for technical departments and purchasing/sales departments, not only in the detergent industry but in many industries where surfactants are used.