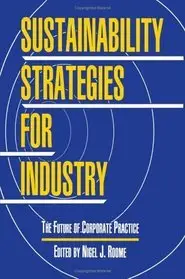 Sustainability Strategies for Industry
Island Press | August 1, 1998 | ISBN-10: 1559635991 | 332 pages | PDF | 56 MB
This volume provides a multidisciplinary examination of the meaning of sustainability and its practical implications for industry. It defines sustainability in an industrial context and addresses how the shift to sustainability will affect the role of industry within society and its relationships with consumerism, employees and the community at large. Contributors examine industrial approaches and consider the key elements needed to achieve sustainable practice.