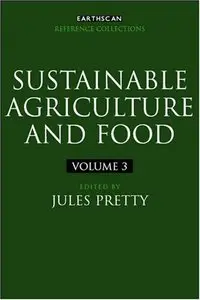 Jules N. Pretty, "Sustainable Agriculture and Food (4 volume set )"
Earthscan Publications Ltd. | 2007 | ISBN: 1844074080 | 1800 pages | PDF | 14 MB
* Essential collection of the most important literature covering the full scope and depth of agriculture and food production world-wide
* Edited by Jules Pretty, the world's leading authority on sustainable food and agriculture
* Substantial set overview and volume introductions by the editor provide comprehensive treatment of the major themes, historical and current trends and schools of thought – ideal for researchers
*World-wide coverage including perspectives and key literature from and on Asia, Europe,the Middle East, Africa and North and South America
This four volume set, edited by the world's leading expert on agricultural sustainability, brings together and interprets the most influential, important and time-tested international scholarship across the fields of agriculture and food production with a set overview and individual volume introductions that make sense of this diverse and complex field.
Volume I covers the history of agriculture from its ancient origins through successive technological and institutional revolutions to the present. Volume II examines the relationship between agriculture and the environment including agricultural contamination, greenhouse gases and climate change, environmental improvements and sustainability, integrated farming, eco-agriculture and agro-ecology, landscape restoration and environmental goods and services. Volume III provides full coverage of the modern industrialized global food system, corporate control, poverty, hunger and international successes, failures and challenges, diet and health, consumer behavior and local alternatives to industrialization. Volume IV addresses how we think about land and our relationship to it, governance and stewardship of the rural commons, systems thinking, ecological literacy, social connections and a sustainable rural life, supportive and perverse agricultural subsidies and policies that shape food poverty and sustain agriculture into the future.
Not all books on AvaxHome appear on the homepage.
In order not to miss many of them follow
ebooks section
(see top of each page on AH)
and visit
my blog
too :)
NO MIRRORS according to the rules