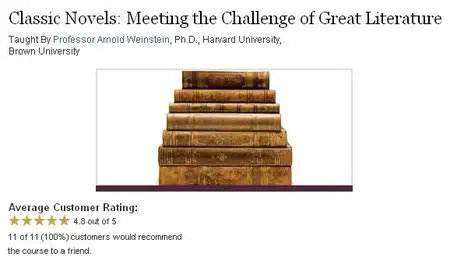 TTC Video - Classic Novels: Meeting the Challenge of Great Literature
English | AVI | XviD | 640x480 | 29.97 fps | MP3, 128 kbps | ~36x30 min | 6.69 GB
If you could travel anywhere in the world, where would you go? Europe? South America? The remote reaches of the African continent?
What if you could travel in time as well? Imagine yourself transported to the sparkling court society of 18th-century France, or sailing aboard a 19th-century whaling ship. What secrets would you learn about the human condition and the lives lived in distant lands and eras?
And what about the most remarkable journey of all: the voyage inside the mind of another human being, in which you plumb the thoughts and emotions that usually remain hidden deep within? What does this journey tell us about the puzzling, sometimes shocking thing we call human nature? More importantly, what does it tell us about ourselves?
These adventures await you in Classic Novels: Meeting the Challenge of Great Literature, taught by veteran Teaching Company Professor Arnold Weinstein. As Professor Weinstein says, "Life flows onto the pages of the books we read." More than a mere "slice of life," classic novels perform a sort of miracle, jolting us to see the remarkable, often provocative truths that underlie the human condition. To experience these extraordinary novels is to ask deep and sometimes unsettling questions about our lives and our world.

Classic Novels is your invitation to the dazzling, surprising, and deeply moving worlds revealed through these great works. You'll move beyond what is often offered in literary courses: plot synopses, anecdotes, facts about where and when a novel was written. With Professor Weinstein's guidance you'll gain something greater and more profound: an opportunity to experience the startling brilliance that makes each of these works a classic.

What Is a Classic?

What exactly is a classic? For many—and maybe for you—a "classic" means a book you should've read, or one that you have read and didn't like. Perhaps you've already encountered these great works, either in a course or while reading on your own. Maybe you think you know what to expect from a classic: engaging stories told by a master storyteller.

But that's only part of the story. What makes a work a classic, Professor Weinstein explains, is its ability to present the world as a more energetic, vibrant, and unpredictable place than we ever imagined. Classic novels open our eyes to the true nature of our world, and take us across the divide that separates mind from mind. They reveal to us our essential humanity, both its beauty and its horror, and hold the mirror up to our unknown selves.

With Professor Weinstein as your guide, you'll view this startling reality as it is unveiled by master authors. Along the way, you'll encounter some of the greatest names in novelistic fiction, including Dickens, Joyce, Tolstoy, Balzac, and Proust. Whether you read along with the course or choose to return later to these great works, you'll find that each lecture provides provocative food for thought about the worlds these authors created.

What is revealed is a notion of the "classic" that goes far beyond literary schools and theoretical approaches. A true classic speaks to the heart and soul, with a message of truth that echoes in our lives long after we've turned the final page.

Epic Explorations of Good and Evil

This epic journey into classic literature begins in the 18th century with Daniel Defoe's remarkable tale of the prostitute and thief Moll Flanders. As you move through the pages of this great novel, you'll travel back in time to the London of three centuries ago, transported by Defoe's precise and evocative prose.

While Defoe's journalistic style perfectly conveys the world of his amoral heroine, it is just one example of how great authors use the literary arts to create a world on the page. In just the first few works covered by this course, you'll view the novel as a sort of aesthetic shape-shifter, twisting and bending to fit a wide range of themes, styles, and historical contexts.

Take, for example, Pierre Choderlos de Laclos's Les Liaisons Dangereuses, which uses an exchange of letters to provide a glimpse into the inner workings of two decadent seducers, or consider Lawrence Sterne's Tristram Shandy, a playful, capricious text that delights in flaunting the conventions of narrative.

After this introduction to the dazzling variety of forms the novel can take, you'll sample the works of 19th-century authors. The authors of this "golden age" unfailingly find the epic in everyday life, exploring the unending battle of good and evil that unfolds over a lifetime and the tumultuous drama of a child growing to adulthood.

From Madame Bovary, Gustave Flaubert's tale of a bored provincial housewife, to Herman Melville's towering saga of whaling in New England, Moby-Dick, you'll experience firsthand how these remarkable authors used scenes of everyday life as the backdrop for grand struggles.

A Voyage Inward: The Modern Mind

With the last half of the course, you'll take a journey of a different kind: this time, into the inner recesses of the human mind. Professor Weinstein guides you through the challenging but rewarding masterpieces of the Modernist movement, where you'll encounter a new vision of what it means to live within the world of the novel.

This new artistic landscape includes the surreal dystopia of Franz Kafka's great works—his bleak and frequently disorienting exploration of modern alienation—and the richly symbolic Africa of Joseph Conrad's Heart of Darkness, where the hidden evil of human nature is horribly unmasked.

With the rise of Modernism and the experimental Postmodernist works that follow, you'll learn about the innovative narrative techniques these authors used to reflect a new understanding of the self and our perception of reality as fragmented and constantly changing, as seen in works as diverse as Virginia Woolf's To the Lighthouse and William Faulkner's As I Lay Dying.

With dazzling works such as these, you'll gain profound insights into the craft of novel writing and gain a deep appreciation for classic storytelling in its many forms.

Writing the Story of Life

It is this appreciation of the art of the story that is perhaps the most valuable aspect of this course. As Professor Weinstein explains, "Literature is miraculous because it makes available to us things that we cannot get in any other way."

In these great books, we get something we never see in our day-to-day world: the whole story of a life. When you open a classic novel, you open yourself to a powerful experience as you embark on a journey alongside the characters. As you trace the many trajectories of these lives, you begin to comprehend the patterns that develop over a lifetime.

And that, perhaps, is the most pressing reason to read these great works. To live with these characters and experience the lives contained on these pages is to confront a crucial question: "How would you write the story of your own life?" Join Professor Weinstein for this thought-provoking journey into the world of Classic Novels, and find your own answer.
Meeting the Challenge of Great Literature
Defoe—Moll Flanders
Sterne—Tristram Shandy
Laclos—Les Liaisons Dangereuses
Laclos—Les Liaisons Dangereuses, Part 2
Balzac—Père Goriot
Balzac—Père Goriot, Part 2
Brontë—Wuthering Heights
Brontë—Wuthering Heights, Part 2
Melville—Moby-Dick
Melville—Moby-Dick, Part 2
Dickens—Bleak House
Dickens—Bleak House, Part 2
Flaubert—Madame Bovary
Flaubert—Madame Bovary, Part 2
Tolstoy—War and Peace
Tolstoy—War and Peace, Part 2
Dostoevsky—The Brothers Karamazov
Dostoevsky—The Brothers Karamazov, Part 2
Conrad—Heart of Darkness
Mann—Death in Venice
Kafka—"The Metamorphosis"
Kafka—The Trial
Proust—Remembrance of Things Past
Proust—Remembrance of Things Past, Part 2
Proust—Remembrance of Things Past, Part 3
Joyce—Ulysses
Joyce—Ulysses, Part 2
Joyce—Ulysses, Part 3
Woolf—To the Lighthouse
Woolf—To the Lighthouse, Part 2
Faulkner—As I Lay Dying
Faulkner—As I Lay Dying, Part 2
García Márquez—One Hundred Years of Solitude
One Hundred Years of Solitude, Part 2
Ending the Course, Beginning the World
Professor Arnold Weinstein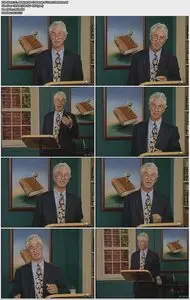 <span style="color:#000000">Filesonic</span>
<span style="color:#ffffff">Wupload</span>
>>> NO PASSWORD <<<
!!! No Mirror(s) Please !!!

!!! My AH blog !!!