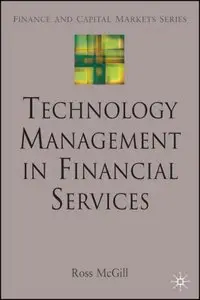 Ross McGill, "Technology Management in Financial Services (Finance and Capital Markets)"
Palgrave Macmillan | 2008 | ISBN: 0230006795 | 320 pages | PDF | 1,1 MB
Technology is now, and will remain, at the forefront of innovation in the financial services sector, driving new products and services. It is seen as the only way for many firms to remain in business at all. Many will fail to innovate or invest enough. Already the separation of the larger financial institutions from the smaller firms is polarizing the community. The advent of new disruptive technologies is about to hit the financial services markets in the same way the internet did a few years ago.
It is vital that those who develop and manage technology in the financial services sector have a clear picture of the role of technology in this fast moving environment. Those who do not embrace this new approach will increasingly be left with obsolete systems.
Not all books on AvaxHome appear on the homepage.
In order not to miss many of them follow
ebooks section
(see top of each page on AH)
and visit
my blog
too :)
NO MIRRORS according to the rules