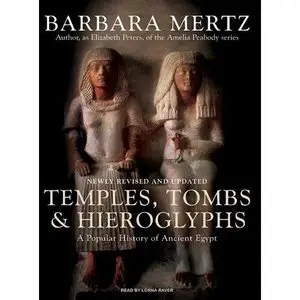 Barbara Mertz, Lorna Raver, "Temples, Tombs and Hieroglyphs: A Popular History of Ancient Egypt"
Tantor Media | 2007 | ISBN: 1400155606, 9780061562273 | 336 pages | PDF | 4,65 MB
This updated and revised version of Dr. Mertz's stunning collection of everything related to the civilization of ancient Egypt is brought to life through Lorna Raver's informative and entertaining narration. Presented as half textbook, half historical fiction, Raver finds a solid balance between the two genres. Her voice brims with mystery and the unknown as she, along with the listener, travels along the path that Mertz has meticulously paved from the earliest glimpses of the remarkable civilization to the very latest discoveries. Raver is solid and unwavering throughout, sounding as though she's enjoying the information she so clearly presents. She brings fun and excitement to a field that many consider to be overly analyzed and studied, offering a learning experience through an abundance of speculative fiction sure to capture the minds of even the youngest listeners.
Only

ONE (1)

RS mirror, please