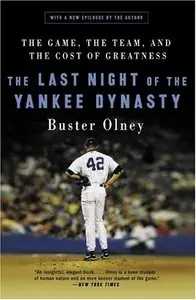 The Last Night of the Yankee Dynasty
Harper Perennial | July 1, 2008 | ISBN-10: 0061672874 | 432 pages | PDF | 2.9 MB
Nothing succeeds like success. But human nature being what it is, some people get a thrill when the successful fail. Is it a matter of rooting for the underdog or bringing the haughty and powerful down a peg? Olney, who covers the Yankees for the New York Times, addresses the question in this sympathetic assessment as he selects their seventh-game loss to the Arizona Diamondbacks in the 2001 World Series as the turning point in the team's decline. Recounting the details of the contest, he flashes back to reveal how individuals contributed to the Yankees' accomplishments in recent years. Of course, the one person who demands success, and for whom even victory doesn't seem to be enough, is owner George Steinbrenner. Much of the ill will generated by the legions of Yankee-haters can be traced to Steinbrenner, with his bullying and deep pockets. Olney's work puts the team under a microscope, as if the daily exasperations, disappointments and even boredom suffice to explain why their fortunes reversed. Olney gives a good account: success is hard work that, like prayers, sometimes does not yield the hoped-for result.