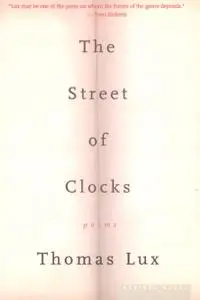 The Street of Clocks
by Thomas Lux
English | EPUB | 0.3 MB
The Street of Clocks, Thomas Lux's first all-new collection since 1994, is a significant addition to the work of an utterly original, highly accomplished poet. The poems gathered here are delivered by a narrator who both loves the world and has intense quarrels with it. Often set against vivid landscapes - the rural America of Lux's childhood and unidentified places south of the border - these poems speak from rivers and swamps, deserts and lawns, jungles and the depths of the sea.