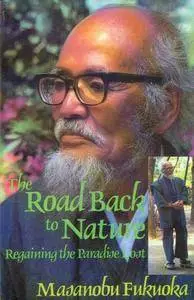 Masanobu Fukuoka, Frederic P. Metreaud - The Road Back to Nature: Regaining the Paradise Lost
1987 | ISBN: 0870406736 | English | 377 pages | PDF | 100 MB
Fukuoka's reflections on his trips to Europe and to America, his sense of shock at seeing the destruction wreaked in the name of agriculture. A collection of his lectures, articles and essays which outline his thinking on nature, God and man and his underlying optimism that good sense can still prevail and we can still turn it all around.
A collection of articles, lectures and essays recording his impressions as he travels the world talking about his revolutionary 'do-nothing' agricultural methods. There is a spiritual side to a lot of his thoughts and an optimism that a change in lifestyles and farming methods could yet heal the Earth's wounds.
Essential reading to fully understand the philosophy behind Fukuoka's methods.