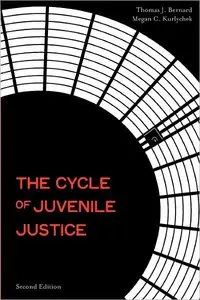 The Cycle of Juvenile Justice
Oxford University Press | October 14, 2010 | ISBN-10: 0195370368 | 256 pages | PDF | 1 MB
The Cycle of Juvenile Justice takes a historical look at juvenile justice policies in the United States. Tracing a pattern of policies over the past 200 years, the book reveals cycles of reforms advocating either lenient treatment or harsh punishments for juvenile delinquents. Bernard and Kurlychek see this cycle as driven by several unchanging ideas that force us to repeat, rather than learn from, our history. This timely new edition provides a substantial update from the original, incorporating the vast policy changes from the 1990s to the present, and placing these changes in their broader historical context and their place within the cycle of juvenile justice. The authors provide a provocative and honest assessment of juvenile justice in the 21st century, arguing that no policy can solve the problem of youth crime since it arises not from the juvenile justice system, but from deeper social conditions and inequalities. With this highly-anticipated new edition, The Cycle of Juvenile Justice will continue to provide a controversial, challenging, and enlightening perspective for a broad array of juvenile justice officials, scholars, and students alike.