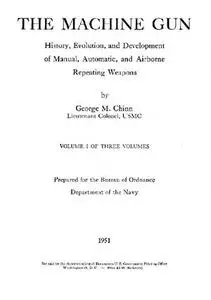 George H. Chinn - The Machine Gun. History, Evolution, and Development of Manual, Automatic, and Airborne Repeating Weapons Volume I
The Bureau of Ordnance, Department of the Navy | 1951 | ISBN: N/A | English | 712 pages | PDF | 147.48 MB
Contents:
PART I - FORERUNNERS OF THE MACHINE GUN.
PART II – MANUALLY OPERATED MACHINE GUNS.
PART III – FULL AUTOMATIC MACHINE GUN DEVELOPMENT.
PART IV – AIRCRAFT AND AIRBORNE WEAPONS.
PART V – AUTOMATIC AIRCRAFT CANNON.