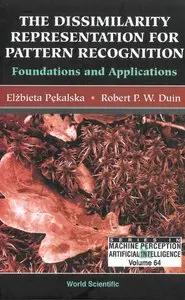 The Dissimilarity Representation for Pattern Recognition: Foundations And Applications (Machine Perception and Artificial Intelligence) By Robert P. W. Duin
Publisher: World Scientific Publishing Company 2005 | 636 Pages | ISBN: 9812565302 | PDF | 29 MB
One of the basic questions in pattern recognition is how to tell the differencc between objects, phenomena or events. Note that only when the difference has been observed and characterized, similarity starts to play a role. It suggests that dissimilarity is more fundamental than similarity. Therefore, we decided to focus more on the concept of dissimilarity. This book is concerned with dissimilarity representations. These are riurncrical representations in which each value captures the degree of' conimonality between pairs of objects. Since a dissimilarity measure can be defined on arbitrary data given by collections of sensor measurements, shapes, strings, graphs, or vectors, the dissimilarity representation itself becomes very general. The advantages of statistical and structural approaches can now be integrated on the level of representation.
NO PASSWORD


!!!There are 4 Links, so - no mirrors more!!!