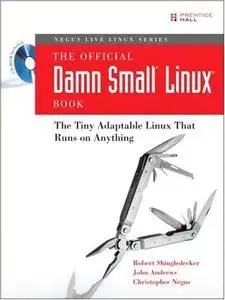 Robert Shingledecker, John Andrews, Christopher Negus
"The Official Damn Small Linux(R) Book: The Tiny Adaptable Linux(R) That Runs on Anything"
Prentice Hall PTR | 2007 | ISBN:0132338696 | 448 pages | CHM | 14 Mb
Make the Most of Today's Smallest, Fastest Desktop Linux Distribution–Damn Small Linux!
Damn Small Linux (DSL) is a super-efficient platform for everything from custom desktops to professional servers. Now, DSL's creator and lead developer have written the first definitive, practical guide to this remarkable system. The Official Damn Small Linux Book brings together everything you need to put DSL to work in just minutes. Simply learn a few essentials, boot the live CD-ROM, and master the rest…one step at a time, hands-on.
If you're new to Linux, you can quickly discover how to use DSL to take your data on the road, safely running your programs and personal environment on nearly any computer. Easily adapt DSL to run on anything from an alternative device (Internet appliance, hand-held, diskless PC, or mini-ITX system) to an older PC that might otherwise be headed for landfill.
–- No mirrors, please –-