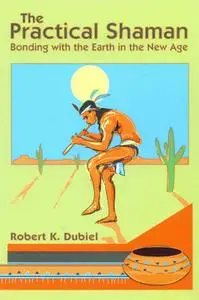 The Practical Shaman: Bonding with the Earth in the New Age by Robert K. Dubiel
English | August 9th, 2013 | ISBN: 0964802015 | 145 pages | EPUB | 1.93 MB
The result of many years of shamanic practice, "The Practical Shaman: Bonding with the Earth in the New Age" is a useful handbook for spiritual searchers who wish to be of service to the Earth and to their community. Author Robert K. Dubiel, Intuitive Coach and Shaman, provides the reader with many suggestions and techniques to activate their personal Light while relating to the world around them. Shamanic topics include bonding with Power Animals, Nature Spirits and Spirit Guides.
Dubiel also emphasizes making friends with the Shadow self in order to transform negativity into a personal ally."The Practical Shaman" contains many guided meditations, including a visualization to establish a safe internal space at a healing pool. This book emphasizes the power of conscious breathing in transforming both inner and outer reality. The reader is shown ways to activate neglected power places, create their own power spots and tune into energy vortexes on the Earth. Readers are also encourages to form service groups to energize the Earth and assist those who have passed on.Drawing from several shamanic traditions, "The Practical Shaman" finds the common threads in each one, including the Egyptian, the Christian and the Native American.
Author Robert K. Dubiel emphasizes the step by step process of shamanic unfoldment. In the section "Jesus as a Model Shaman" he describes Jesus' public life as a series of shamanic initiations into the embodiment of his Light Body: Baptism, Service, Transfiguration, Crucifixion (Sacrifice), Resurrection and Ascension.Author Robert K. Dubiel views the shaman as someone who consciously works interdimensionally to be of service.
This book focuses on the balance between one's personal power and the Universal Energy which we all share. In the section "How to Receive and Store Grace" Dubiel illustrates ways to open ourselves to the support that is always available. He also encourages the reader to make vows that will strengthen the unfoldment of their life purpose. Thus "The Practical Shaman" helps searchers to open their Light Body to assist in the spiritual transformation that is sweeping the planet at this time.