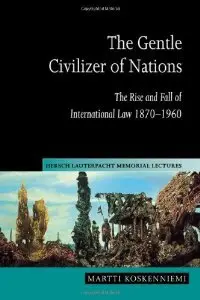 Martti Koskenniemi, "The Gentle Civilizer of Nations: The Rise and Fall of International Law 1870-1960 (Hersch Lauterpacht Memorial Lectures)"
Publisher: Cambridge University Press | ISBN 10: 052162311 | 2001 | PDF | 584 pages | 2.3 MB
Koskenniemi traces the emergence of a liberal sensibility relating to international matters in the late 19th century, and its subsequent decline after the Second World War. He combines legal analysis, historical and political critique and semi-biographical studies of key figures, including Hersch Lauterpacht, Carl Schmitt and Hans Morgenthau. Finally, his discussion of legal and political realism at American law schools ends in a critique of post-1960 "instrumentalism". This wide-ranging study provides a unique reflection on the future of critical international law.