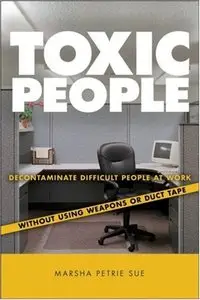 Toxic People: Decontaminate Difficult People at Work Without Using Weapons Or Duct Tape
Wiley; 1 edition (September 21, 2007) | ISBN: 0470147687 | 240 pages | PDF | 1.5 MB
"From corporate America to the smallest business owner, this book should be mandatory reading because it provides toxic relief that will put money in your pocket and calm in your personality. A dose of this reading would enhance the success of business school students and smooth out a few bumps in a rocky marriage."
Richard L. Labrum, Vice President, Wealth Management, Smith Barney
"If you're just sick to death of those people who zap the energy right out of you, Marsha has the cure! In no-nonsense terms, she gives us the prescription for dealing with toxic people. She mixes in the right dosage of personal experience, humor, and practical advice to create a compelling message that is highly relevant in our personal and professional lives. I highly recommend this book to everyone interested in cleaning up toxic behaviors!"