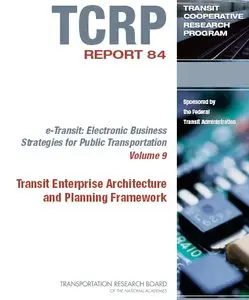 e-Transit: Electronic Business Strategies for Public Transportation, Volume 9, Transit Enterprise Architecture and Planning Framework
Transportation Research Board, National Academy of Sciences. TCRP REPORT 84
TRB, NAS | 2011 | ISBN: 9780309213318 | 150 pages | PDF | 9 MB
This report presents multi-faceted methods, tools, and examples within a framework to help transit agencies successfully implement technologies. The report describes the connections between a transit agency's business and the technology, assists with building the business case for specific investments, highlights different financing options, provides guidance on an enterprise-wide approach to create more efficient and effective system deployments, and provides a method to show the benefits of a technology investment.
The report provides a framework that incorporates five systems management disciplines: Enterprise Architecture Planning, Business Case Methodology, Systems Engineering, Financial Implementation Methods, and Post-Implementation Assessment.
The declining costs of communications, data storage, and data retrieval are accelerating the opportunities spawned by the Internet and other information and communications technologies. Choosing and sequencing investments in technologies, processes, and people to reduce costs and increase productivity present challenges to the transit manager, who must weigh the costs, benefits, and risks of changing the ways services are delivered.
CONTENTS
1 Executive Summary
1 Project Overview
2 Phase I Results
4 Phase II Results: Reference Enterprise Architecture for Transit
7 Chapter 1 Introduction
7 Project Objectives
7 Transit Enterprise Architecture and Planning (TEAP) Framework Objectives
8 Final Report Scope
9 Chapter 2 Research Approach—Methodology
9 Phase I: Development of the TEAP Framework
10 Phase II: Reference Transit Enterprise Architecture Process
11 Chapter 3 State of the Practice
11 Summary of Results
11 Enterprise Architecture and Enterprise Architecture Planning (EA/EAP)
11 Business Case Methodology (BCM)
14 IT/ITS Funding Implementation
14 Systems Engineering (SE)
15 Post-Implementation Analysis (PIA)
17 Chapter 4 Development of the TEAP Framework
17 TEAP Framework Overview
20 TEAP Framework Wiki Overview
21 TEAP Guidebook
24 Chapter 5 Reference Enterprise Architecture for Transit
24 Purpose of a Transit Enterprise Architecture Process Reference Model
24 Methodology Used to Develop the Reference Enterprise Architecture for Transit
25 What Is in the Reference Enterprise Architecture for Transit?
25 TEAP Metamodel Overview
25 Overview of the Reference Enterprise Architecture for Transit
28 TEAP Solutions for Fare Management
30 Chapter 6 Evaluation and Next Steps
30 Evaluation Phase Goal
35 Summary and Key Findings
36 Conclusion and Final Comments
37 References
38 Abbreviations and Acronyms
Appendix A Guidance for Transit Managers
Appendix B State of the Practice Synthesis
Appendix C Validation Report
with TOC BookMarkLinks