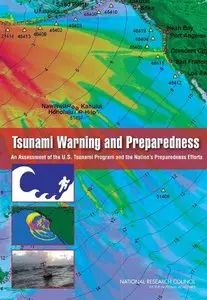 Tsunami Warning and Preparedness: An Assessment of the U.S. Tsunami Program and the Nation's Preparedness Efforts
Committee on the Review of the Tsunami Warning and Forecast System and Overview of the Nation's Tsunami Preparedness, National Research Council
NA Press | 2011 | ISBN: 0309137535 9780309137539 | 297 pages | PDF | 10 MB
This book explores the advances made in tsunami detection and preparedness, and identifies the challenges that still remain. The book describes areas of research and development that would improve tsunami education, preparation, and detection, especially with tsunamis that arrive less than an hour after the triggering event.
Many coastal areas of the United States are at risk for tsunamis. After the catastrophic 2004 tsunami in the Indian Ocean, legislation was passed to expand U.S. tsunami warning capabilities. Since then, the nation has made progress in several related areas on both the federal and state levels. At the federal level, NOAA has improved the ability to detect and forecast tsunamis by expanding the sensor network. Other federal and state activities to increase tsunami safety include: improvements to tsunami hazard and evacuation maps for many coastal communities; vulnerability assessments of some coastal populations in several states; and new efforts to increase public awareness of the hazard and how to respond.
According to Tsunami Warning and Preparedness, minimizing future losses to the nation from tsunamis requires persistent progress across the broad spectrum of efforts including: risk assessment, public education, government coordination, detection and forecasting, and warning-center operations. The book also suggests designing effective interagency exercises, using professional emergency-management standards to prepare communities, and prioritizing funding based on tsunami risk.
Contents
EXECUTIVE SUMMARY
SUMMARY
1 INTRODUCTION
The Tsunami Threat in the United States
Goals and Scope of this Report
The Range of Options Available for Tsunami Hazard Mitigation
Focus on Warning and Preparedness
The Nation's Tsunami Warning and Preparedness Efforts
National Tsunami Hazard Mitigation Program
NOAA's Tsunami Program
Assessing the Nation's Efforts
Challenges to Reducing the Nation's Vulnerability to Tsunamis
Tying It All Together: Report Roadmap
2 ALIGNING PRIORITIES WITH SOCIETAL RISKS FROM TSUNAMIS
Summary
Introduction
Comprehensive Risk Assessment
Tsunami Hazard Assessment
Inundation Modeling
Hazard Maps
Evacuation Maps
Vulnerability Assessment
Population Exposure and Sensitivity
Evacuation Potential
3 EDUCATION AND PREPAREDNESS OF INDIVIDUALS, COMMUNITIES, AND DECISION MAKERS
Summary
Introduction
Education of At-Risk Individuals
Factors That Increase the Effectiveness of Education
Understanding the Local Risk Conditions and the Target Audience
Increasing the Effectiveness of Public Education of Tsunamis
Community Preparedness Efforts
Developing and Delivering Effective Warning Messages
Developing Effective Messages
Effective Delivery of Warning Messages
Improving Coordination of Preparedness Needs and Evacuation Procedures
Improving Communication Among TWCs and NTHMP Members
Communicating Local Community Needs to NTHMP and the TWCs
Practicing Evacuation Procedures and Protocols
Post-Event Reconnaissance
4 TSUNAMI DETECTION AND FORECASTING
Summary
Detection of Earthquakes
Seismic Networks Used by the Tsunami Warning Centers
Algorithms for Estimating an Earthquake's Tsunami Potential
Potential Use of Earthquake Alerts from the NEIC
Detection of Tsunamis with Sea Level Sensors
The Tsunami Warning Decision Process Before and After Enactment of Public Law 109-424
The Economic Value of the DART Network
Description of the Coastal Sea Level Gauge Network
Adequacy of the Geographical Coverage of the Coastal Sea Level Gauge Network
Reliability of the Coastal Sea Level Gauge Network
Coastal Sea Level Data Processing
Description of the Deep-ocean Assessment and Reporting of Tsunamis (DART) Network
Adequacy of the Geographical Coverage of the DART Network
Reliability of the DART Network
DART Data Processing
Sea Level Data Integration into Other U.S. and Global Observation Systems
Forecasting of a Tsunami Under Way
Instrumental Detection of Near-Field Tsunamis
Research Opportunities and New Technologies
Duration of High-Frequency P-Waves for Earthquake Moment Magnitude Estimation
Hydroacoustic Monitoring of Underwater Geophysical Events
Continuous GPS Measurements of Crustal Movement
Observation of Tsunami Wave Trains with Satellite Altimeters
Tsunami-Induced Sea-Surface Roughness and "Tsunami Shadows"
Direct Recording of Tsunami Waves by Island Seismometers
"Upward Continuation" of the Tsunami Wave and Its Detection in Space
5 LONG-TERM RELIABILITY AND SUSTAINABILITY OF WARNING CENTER OPERATIONS
Summary
The Tsunami Warning Centers
Tsunami Warning Center Functions
Tsunami Detection
Tsunami Decision Support
Product Generation and Warnings
Technology Needs
Human Resources
Organizational Structures
Conclusions
REFERENCES
APPENDIXES
A Examples of Tsunami Sources That Threaten the United States
B Review of the Tsunami Warning and Forecast System and Overview of the Nation's Tsunami Preparedness
C Relative Hazards of Near- and Far-Field Tsunami Sources
D Available Tsunami Evacuation Maps
E Examples of Tsunami Education Efforts
F June 14 005: A Case Study in Tsunami Warning and Response
G Magnitudes from C. Richter to Mwp and the W Phase
H Tsunami Earthquakes
I Samoan Tsunami
J Response to the Chilean-Earthquake Generated Tsunami: The Hawaii Case Study
K Acronyms
L Committee and Staff Biographies
with TOC BookMarkLinks