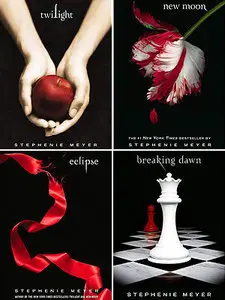 Twilight Audio Book: Complete Series Of Twilight On Audio (1 - 4)
Stephenie Meyer | ISBN: 0316031844 | 2005 | MP3 (64 kbps) | 1.77 GB
This is the complete series of Twilight on Audio.
Includes:
Twilight, New Moon, Eclipse, Breaking Dawn 198 tracks 11 CDs
Book Description
Deeply sensuous and extraordinarily suspenseful, TWILIGHT captures the struggle between defying our instincts and satisfying our desires. This is a love story with bite. Isabella Swans move to Forks, a small, perpetually rainy town in Washington, could have been the most boring move she ever made. But once she meets the mysterious and alluring Edward Cullen, Isabellas life takes a thrilling and terrifying turn. Up until now, Edward has managed to keep his vampire identity a secret in the small community he lives in, but now nobody is safe, especially Isabella, the person Edward holds most dear. The lovers find themselves balanced precariously on the point of a knifebetween desire and danger.
About the Author
Stephenie Meyer graduated from Brigham Young University with a degree in English Literature, and she lives with her husband and three young sons in Glendale, Arizona. This is her first book.
=============
If you don't like to read or you like to follow along, this is what you need! =D