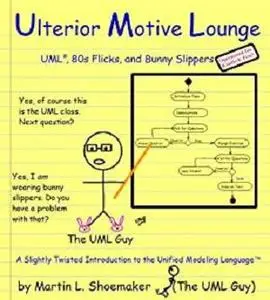 Ulterior Motive Lounge: UML, 80s Flicks, and Bunny Slippers by Martin L. Shoemaker
English | December 19, 2011 | ISBN: N/A | ASIN: B006OBV4HC | 397 pages | AZW3 | 10.00 Mb
Ulterior Motive Lounge: UML, 80s Flicks, and Bunny Slippers
A slightly twisted introduction to the Unified Modeling Language
Join The UML Guy, The Reader, and a cast of dozens in the world's first UML comic strip! As they revisit movies and TV shows from the 80s (and beyond), they'll draw diagrams of the action using the Unified Modeling Language, the industry standard notation for modeling software and systems.
In between the comic strip episodes, The UML Guy explains in more depth, including detailed examples of specific diagrams. He also talks about practical issues in how you can apply UML in your projects.
We're tempted to call this a no-nonsense approach for learning UML; but frankly, the book is full of nonsense. And bad jokes. And runaway stick figures. And bunny slippers. And reader comments. And more bad jokes…
But after reading it, you'll know how to read and apply the fundamentals of UML on your projects, and you'll be ready for more advanced techniques from there.