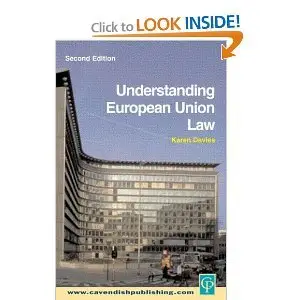 Understanding European Union Law
Routledge-Cavendish | October 6, 2003 | ISBN-10: 1859418481 | 184 pages | PDF | 3.31 MB
European Union law is now a core subject for both the Bar Council and the Law Society,and it is vital that all law students equip themselves with a sound understanding of the EU legal system. This book looks at the main themes of EU law in a logical, progressive manner, giving the reader an understanding of EU law, concentrating on how, and especially why, the law has developed as it has. In addition, a number of issues presently facing the EU are also considered, such as enlargement and the prospect of a comprehensive written constitution. Understanding European Union Law is both an introduction for students new to EU law and an essential addition to revision for the more accomplished, including important tips on how to approach examination questions. It is also essential reading for students on business studies courses.