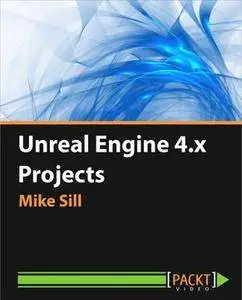 Unreal Engine 4.x Projects
HDRips | MP4/AVC, ~461 kb/s | 1280x720 | Duration: 08:52:50 | English: AAC, 128 kb/s (2 ch) | 2.25 GB
Genre: Development / Programming
Explore the world of professional game development with Unreal Engine 4 in this project-based video.
Create Two games with increasing difficulty level on your own
Dive into Unreal Engine 4's impressive and ever-evolving toolset
Become a pro game developer by creating pro-level games from scratch
If you want to do more with Unreal Engine 4 and dive deep into the amazing capabilities that it has to offer, then this video is the right choice for you. In this video, you will learn how to create 2 different Unreal Engine 4 games.
The design complexity of each game increases gradually to give you a complete overview of Unreal Engine 4 and its amazing features. You will learn to implement advanced shading techniques, create stunning graphics, leverage the rendering power of Unreal Engine to get the best out of it.
The experience of creating a variety of games from scratch will help you get a clear grip on Unreal Engine 4 and enable you to become a pro game developer with Unreal Engine 4.
Welcome to the best eLearning video (English, German, French, Spanish language) and many more:
LINK
Do not forget to check my blog! Updated regularly! Add in bookmarks my blog :)
PM me if Links not working!
No mirrors pls!