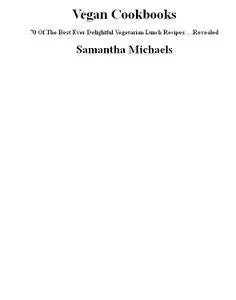 Vegan Cookbooks: 70 Of The Best Ever Delightful Vegetarian Lunch Recipes….Revealed! by Samantha Michaels
English | May 14th, 2013 | ASIN: B00GAPUD7E, ISBN: 1628841001 | 62 pages | EPUB | 0.11 MB
There are lots of great vegetarian cookbooks, but this one is a little different, dare I say better? I am Samantha Michaels and I love to cook. For years now I have experimented to create healthy vegetarian recipes. I love to try new things and have read through various vegetarian cookbooks but none did exactly what I wanted; namely to make vegetarian cooking easy and delicious.
My life is incredibly hectic so it was often difficult for me to find the time to cook healthy, delicious vegetarian meals. That's why in this book I have focused on meals that are quick and easy to prepare. Some of the best vegetarian cookbooks lay out exactly what is required to cook a nice meal but many are over complicated dishes designed for large banquets, not a light lunch. My book is one of the best vegetarian cookbooks for beginners available. I have tried to focus on creating tasty, light recipes. Even if you are a tried and true Carnivore this is still one of the best vegetarian cookbooks available. With over 70 great recipes there is something for every palate in my vegetarian cookbook. For many people vegetarian food is seen as bland or tasteless, some have been put off by talk of tofu and bean curd. Good vegetarian cookbooks are able to prove that vegetarian food can be every bit as delicious as food containing meat and this is one of those. The kindle edition of "70 of the best ever delightful vegetarian lunch recipes…Revealed" is now available for an incredible low price of only $3.68 that's only 5 cents a recipe.