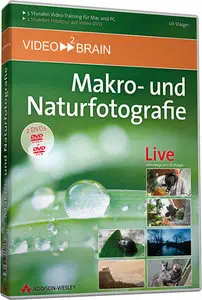 Video2Brain - Makro- und Naturfotografie
FLV | ~1000 kb/s | 1024x600 | ~7 Stunden | German: MP3, 48 kb/s (1 ch) | 6.29 Gb
Live-Video-Sequenzen zu Beleuchtung, Objektiven und Kameratechnik werden durch Bildschirmvideos zu RAW-Entwicklung, Nachbearbeitung, kreativen Techniken ergänzt: Durch diesen einzigartigen Mix kann das Video-Training dem vielseitigen Thema gerecht werden.
Welcome to the best movies collection (English, German, French language), best software, best eLearning video and many-many more:
LINK
Do not forget to check my blog! Updated regularly!