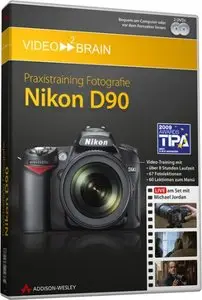 Video2Brain - Praxistraining Fotografie Nikon D90
FLV | ~1201 kb/s | 1024x576 | ~8 Stunden | German: MP3, 64 kb/s (1 ch) | 5.18 Gb
Sie nennen die Nikon D90 Ihr eigen und wollen einfach mehr, als nur auf den Auslöser drücken? Dann sind Sie hier genau richtig! Michael Jordan, Obermeister der Fotografeninnung Mittelrhein mit über 20 Jahren Erfahrung zeigt live, was die Nikon D90 alles kann. Erfahren Sie alles über Aufnahmeprogramme, Menüs und Brennweiten und lernen Sie, professionell mit Belichtungszeit, ISO, Schärfe, dem Weißabgleich und vielem mehr umzugehen. Profitieren Sie von seinem umfangreichen Hintergrundwissen und erfahren Sie anschaulich wie sich veränderte Blenden und Verschlusszeiten auf das Bildergebnis auswirken. So holen Sie nicht nur mehr aus Ihrer Kamera heraus, Sie lernen gleichzeitig, wie Profi-Fotografen richtig gute Bilder machen.
Welcome to the best movies collection (English, German, French language), best software, best eLearning video and many-many more:
LINK
Do not forget to check my blog! Updated regularly!