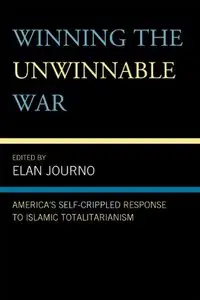 Winning the Unwinnable War
Lexington Books | November 16, 2009 | ISBN-10: 0739135406 | 268 pages | PDF | 1 MB
Eight years after 9/11 and in the shadow of two protracted U.S. military campaigns in the Middle East, the enemy is not only undefeated but emboldened and resurgent. What went wrong_and what should we do going forward? Winning the Unwinnable War shows how our own policy ideas led to 9/11 and then crippled our response in the Middle East, and it makes the case for an unsettling conclusion: By subordinating military victory to perverse, allegedly moral constraints, Washington's policy has undermined our national security. Owing to the significant influence of Just War Theory and neoconservatism, the Bush administration consciously put the imperative of shielding civilians and bringing them elections above the goal of eliminating real threats to our security. Consequently, this policy left our enemies stronger, and America weaker, than before.