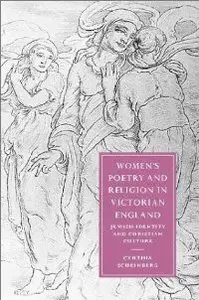 Cynthia Scheinberg, "Women's Poetry and Religion in Victorian England: Jewish Identity and Christian Culture (Cambridge Studies in Nineteenth-Century Literature and Culture)"
Publisher: Cambridge University Press | ISBN 10: 0521811120 | 2002 | PDF | 290 pages | 1.7 MB
Victorian women poets lived in a time when religion was a vital aspect of their identities. Cynthia Scheinberg examines Anglo-Jewish (Grace Aguilar and Amy Levy) and Christian (Elizabeth Barrett Browning and Christina Rossetti) women poets, and argues that there are important connections between the discourses of nineteenth-century poetry, gender and religious identity. Broadly interdisciplinary, the book's methodology relates to studies in poetics, religious studies, feminist literary criticism, and little-known Anglo-Jewish primary sources.