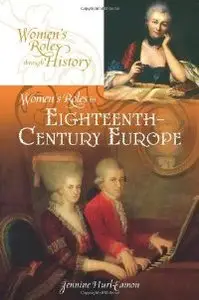 Jennine Hurl-Eamon, "Women's Roles in Eighteenth-Century Europe (Women's Roles through History)"
Publisher: Greenwood | ISBN 10: 0313376964 | 2010 | PDF | 171 pages | 11.5 MB
During the 18th century, the Enlightenment, the French Revolution, protoindustrialization, and colonial conquest made their marks on women's lives in a variety of ways. Women's Roles in Eighteenth-Century Europe examines women of all ages and social backgrounds as they experienced the major events of this tumultuous period of sweeping social and political change. The book offers an inclusive portrayal of women from across Europe, surveying nations from Portugal to the Russian Empire, from Finland to Italy, including the often overlooked women of Eastern Europe. It depicts queens, an empress, noblewomen, peasants, and midwives. Separate chapters on family, work, politics, law, religion, arts and sciences, and war explore the varying contexts of the feminine experience, from the most intimate aspects of daily life to broad themes and conditions.