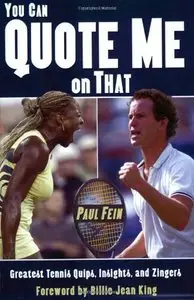 You Can Quote Me On That: Greatest Tennis Quips, Insights And Zingers
Potomac Books Inc. | January 31, 2005 | ISBN-10: 1574889257 | 288 pages | PDF | 2.3 MB
You Can Quote Me On That isn't about the polite, country-club sport where players shake hands over the net and offer congratulations on a fine drop shot. It views tennis from inside, where competition is grueling, tempers flare, and egos collide. Top tennis journalist Paul Fein has compiled hundreds of the most outrageous, most significant, and most illuminating quotes on, by, and about tennis's biggest stars and hottest controversies.