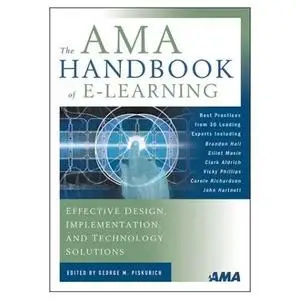 AMA Handbook of E-Learning, The: Effective Design, Implementation, and Technology Solutions
AMACOM | ISBN: 0814407218 | 2003 | 496 Pages | CHM | 3.8 MB
This authoritative sourcebook is a timely decision-making tool for companies making the transition to (or already using) e-learning. Featuring all-original contributions from high-profile practitioners and renowned theorists, the book reveals how top companies are implementing and using this crucial employee development tool. Topics include:
* analyzing organizational need * selling e-learning to the organization * learning management systems * synchronous collaboration * learning portals * repurposing materials * outsourcing and vendor relations.
Other chapters focus on motivation and retention, technological and software options, measuring ROI, and more.