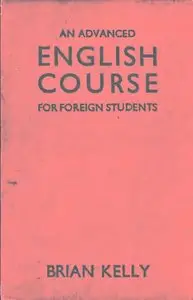 An advanced English course for foreign students
Publisher: Longmans | 1947 | ISBN: N/A | ASIN: B0006S1T4W | English | DJVU | 429 pages | 6.08 Mb
There are a large number of fairly good elementary textbooks for foreigners, there is a real need for an advanced course which will help pupils to understand and use the more complicated grammatical constructions, the idiomatic expressions, and the compound verbs. By "compound" verbs, I mean those whose meaning is modified or completely changed by the addition of one or more prepositions or prepositional adverbs. I have found that while, on the one hand, the average foreign pupil is often able to express himself fairly correctly in a kind of over-simplified" foreigners' English, "he is, on the other hand, generally quite incapable of reading an English novel or play, or of understanding an ordinary conversation properly. He will puzzle over a sentence like "John dropped in this evening," quite unaware that "to drop in" is a group with a meaning quite apart from that of the words taken separately; and he is completely floored by idiomatic expressions like "to burn the candle at both ends," or, "to come off with flying colours." Moreover, no matter how well they have been taught at home, I have found few foreigners able to express themselves correctly when they attempt anything more complicated than the simplest grammatical constructions. I feel that this is due to a defect of method in their teaching. Most grammars begin with the treatment of the noun, followed in succession by that of the adjective, the pronoun, and the verb. Moreover, the so-called auxiliary, defective, and anomalous verbs are studied after the strong and weak verbs. This order seems to me to be completely wrong. People do not think in isolated words, but in sentences. The key word to the sentence is the verb, and the type of verb most frequently used in English is what H. E. Palmer has called the " anomalous finite " (see Lesson I). The use of one of the anomalous finites is necessary in practically every English sentence except the simplest kind of positive affirmation (see the Introductory Note to Lessons 1-6). In the sentence "He can speak English" it is not necessary to know any grammar to write "he" and "English."