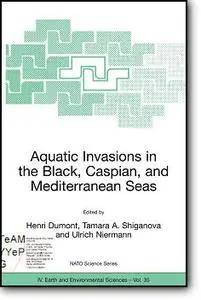 Henri J. Dumont (Editor), et al, «Aquatic Invasions in the Black, Caspian, and Mediterranean Seas»
Springer | ISBN 1402018665 | 2004 Year | PDF | 8,19 Mb | 313 Pages
The Mediterranean, Black, and Caspian Seas represent three fragments of the former Tethys Sea, and are thus of great interest to understanding the evolution of the entire region where Eurasia, Africa and the Arabian Peninsula meet. Fishing activity and maritime traffic through the Dardanelles and Bosporus, and via the Lenin Canal to the Caspian Sea, have greatly intensified. Moreover, all major European rivers are now linked by canals, meaning that ships can navigate from the mouth of the Volga to the Baltic, from the Danube to the Rhine, and from there to all other major European Rivers. Such an anastomosed system not only allows ships to pass between basins: biota follow in their wake, and thus the Black Sea and Caspian fauna and flora, long sequestered in their closed basins, are suddenly given an opportunity to "escape". On the other hand, alien invaders increasingly find their way to the three seas,as stowaways in ballast water tanks or attached to the hulls. Some of the newcomers expanded to enormous numbers in the receiving ecosystem, where they may cause great economic damage.
The book provides an up-to-date overview of the situation in the Ponto-Caspian with regard to the jelly invasions that have been perturbing the local pelagic ecosystems since the early 1980s, contrasting that with biological invasions elsewhere, to try and identify general underlying principles.