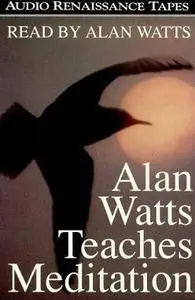 Alan Watts Teaches Meditation
(1992)
Unabridged Audiobook
Author:
Alan Watts
| Genre:
Non-Fiction, Self-Help
Alan Watts is also featured demonstrating the relationship of music and sound to meditation through the use of gongs, instruments, and the recitation of a mantra. The demonstration is designed to give the listener the opportunity to experience a mantra meditation with Alan Watts and a group of friends who were brought together especially for this recording.
Narrator:
Alan W. Watts
Publication Date:
November 15, 1992
*No covers included.
Detailed Summary
Files:
1
Duration:
93 minutes
Format:
MP3
Sample Rate:
44,100 hertz
Channel:
Stereo
Bitrate:
128 kb/sRapidShare.com Link
Download
(85.6 Mb)