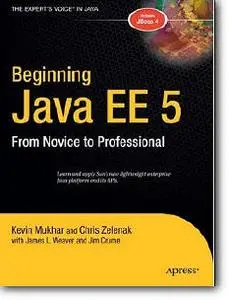 Kevin Mukhar, et al, "Beginning Java EE 5: From Novice to Professional"
Apress | ISBN 1590594703 | 2005 Year | PDF | 10,88 Mb | 672 Pages
The Java 2 Enterprise Edition (J2EE) is an extremely powerful platform for developing enterprise-level Java-based applications, primarily for the server. This book shows you how to harness that power, examining how the pieces of the new J2EE 5 platform fit together.

This book surpasses explaining how to code a JSP or an EJB: It explains when and where to use these APIs, what their strengths and weaknesses are, and perhaps most importantly, how to employ the best practices for using them.

Hands-on tutorials are also included, along with clear explanations and working code examples. You will grow to take the next step—from writing client-side desktop applications to writing enterprise applications. You will also learn how to use the individual APIs and tools in the J2EE platform, and how to merge these to create your own enterprise applications.