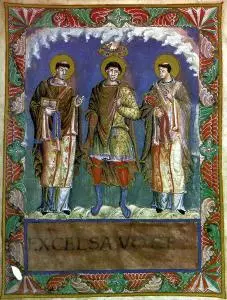 A History of the Middle Ages is the amazing story of European man in transition. It is a dramatic chronicle of 1,000 years of political, social, and economic transformation beginning with the dissolution of the classical Mediterranean civilization and ending with the first flowering of the Renaissance. It is also the story of two new religions, Christianity and Islam, both of which were destined to dominate the mind of every person in those new civilizations arising in their wake. This was the great Age of Faith, a time of darkness and a time of enlightenment…a time of lords and vassals, popes and kings, and commerce and cathedrals.
This great history starts with a survey of Christianity, then continues with an exploration of the "dark ages" following the fall of Rome, before proceeding with an explanation of how Europe coped with, and absorbed, the barbarians who overran the Empire. It goes on to trace the development of feudalism and Islam, and describes the harrowing survival of Byzantium throughout the brutal chaos that swirled about the Eastern Roman Empire during the 9th and 10th centuries. Discover how national monarchies and the modern nation state came into being, how the West responded to the Islamic invasions, and how Christianity penetrated into the farthest reaches of Northern Europe. Understand the dramatic repercussions of the Great Schism in Christianity and how economic change in the West almost destroyed the church. Finally, discover the events which gave rise to the magnificent flowering of the Gothic Age and the explosion of knowledge which subsequently paved the way for the Renaissance. The Middle Ages were the precursor to everything which we in the west consider "modern." This beautifully written history tells you why.
Table of Contents
1 Christianity
2 The Early Middle Ages In The West
3 Eastern Christendom And Islam To The Late 11th Century
4 Monarchy In The Medieval West To The Early 14th Century
5 Medieval Civilization In The West
6 The Late Middle Ages In The East
7 Politics And Economics In The Late Medieval West
Link.
http://rapidshare.de/files/36010992/C.Brinton_J.Christopher_R.Wolff_A_History_Of_The_Middle_Ages.part1.rar
http://rapidshare.de/files/36021060/C.Brinton_J.Christopher_R.Wolff_A_History_Of_The_Middle_Ages.part2.rar
http://rapidshare.de/files/36026385/C.Brinton_J.Christopher_R.Wolff_A_History_Of_The_Middle_Ages.part3.rar