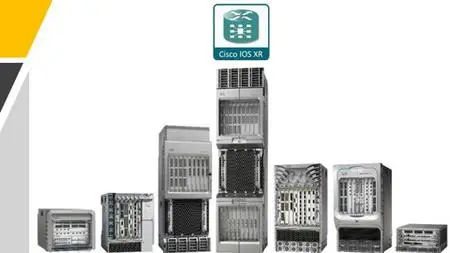 Cisco IOS-XR Zero to Hero Course
Genre: eLearning | MP4 | Video: h264, 1280x720 | Audio: AAC, 44.1 KHz
Language: English | Size: 3.61 GB | Duration: 7h 55m
Cisco IOS-XR Networking Course
What you'll learn
Cisco IOS-XR Zero to Hero Course consists of knowledge of Cisco IOS-XR operating system, including the architecture and ASR product family
IOS-XR operating system
Cisco ASR product family
Cico ASR Product family architecture
Cisco IOS-XR CLI
configuration basics
Routing protocol
Route-policy language
High-availability concepts
Requirements
Knowledge of general routing concepts is required as a prerequisite of this course .
Student with CCNA or equivalent knowledge is another prerequisite of this course
Description
Few years back when i started working on Cisco ios-xr devices i noticed that there is no appropriate training which focus on ios xr or explains the difference between ios and ios-xr devices.
ios-xr is a different beast and i think the most effective way of learning IOS-xr is to compare it with IOS and ios-xe devices while studying.
Hello Everyone,
I'm so glad that you are here. Welcome to "Cisco IOS-XR Zero to Hero Course", through a combination of lectures and hands-on lab, this course will help you attain all major aspects of the IOS-XR operating system, including the architecture, ASR product family, high-availability concepts, configuration basics, Routing protocol, Route-policy language and lot more.
i'm in the field of networking for more than a decade now.
I have worked on numbers of multinational companies where i have built and deployed their network.
I teach in a very simple language and i don't assume that you know little bit or more about this course.
in fact i will start this course from the scratch and make sure you understand everything.
Syllabus overview
+++++++++++++++++++++++++++++
I have actually broken down my entire course in 10 sections and in future i will add more sections in this course.
1. Cisco Operating System Versions, Overview & Comparison
where we will compare IOS, IOS-XE and IOS-XR and talk about their features
2. Cisco ASR 9000 Product Family
Where we will talk about ASR 9000 architecture and product family
3. Cisco IOS-XRv Integration with GNS3
So that you can build the LAB at home
4. IOS-XR CLI Introduction
Here you will get introduced with IOS-XR CLI and 2 stage commit model, config rollback and much more
5. Connected & Static Routes
Here we will see how to configure static routes in IOS-XR devices
6. EIGRP
We will talk about eigrp , eigrp stigmatization and named EIGRP config in IOX-XR devices.
7. OSPF
We will talk about OSPF area, ospf load sharing, OSPF Special areas and OSPF LSA
8. BGP
BGP config for both IBGP and EBGP prefix advertisement and IOS-XR config template for BGP
9. ROUTE POLICY LANGUAGE (RPL)
RPL structure, statement, logic, Boolean operation in RPL, Nested RPL, how we can Edit an RPL and much more
10. HSRP & VRRP
Will talk about First hop redundancy protocol like HSRP and VRRPP
In case you do not like my course for whatever reasons , you may choose to refund as per udemy policy.
Please do give me appropriate review, star rating and feedback. it will help me in knowing how i'm teaching.
Who this course is for
• This course is intended for network professionals, designers, NOC engineers, and support staff who are involved with the system administration of Cisco IOS XR routers.
• This course can also be very helpful for any student preparing for any Service Provider exam or working on the SP environment.
• This course will also help you build solid foundation for ISP related certifications like CCNP and CCIE.