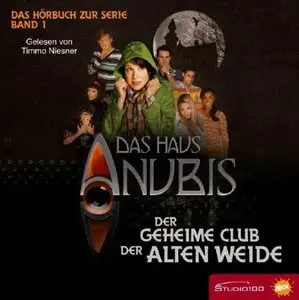 Das Haus Anubis - Der geheime Club der Alten Weide
Genre: Hörspiele für Kinder | Time: 06:15:08 | Publisher: Studio 100 | ASIN: B002WBTA3I | 18. Dezember 2009
Language: Deutsch | Audiobook in MP3 / 128 kbps | 369.81 MB
Beschreibung:
Nina Martens kann es nicht fassen! Sie soll in ein Internat – und zwar ins Haus Anubis. Als sie dort ankommt, würde sie am liebsten sofort wieder von diesem gruseligen Ort verschwinden. Das alte Gemäuer ist kalt und unheimlich, die anderen Internatsbewohner verhalten sich ihr gegenüber völlig abweisend, und schließlich erfährt sie auch noch, dass eine Bewohnerin namens Linn spurlos verschwunden ist. Doch dann bietet sich ihr eine Chance, in die Gemeinschaft aufgenommen zu werden: Als Mutprobe soll sie auf den alten Dachboden des Hauses. Dort stößt Nina auf ein achtzig Jahre altes Geheimnis … Gibt es etwa einen verborgenen Schatz im Haus Anubis? Nina und die anderen beschließen, einen geheimen Club zu gründen und der Sache auf den Grund zu gehen. Ein gefährliches Abenteuer beginnt, denn im Haus Anubis ist nichts, wie es scheint …
Download Das Haus Anubis - Der geheime Club der Alten Weide:
filesonic.com
Pass: avaxhome.ws
Mehr Audiobucher von mir findet Ihr in
My Blog
If you'll find that my links are dead please let me know through the Private Messages.
Please DO NOT MIRROR