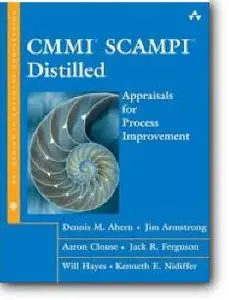 Dennis M. Ahern, et al, «CMMI SCAMPI Distilled : Appraisals for Process Improvement»
Addison-Wesley Professional | ISBN 0321228766 | 2005 Year | CHM | 1,76 Mb | 240 Pages
The Standard CMMI Appraisal Method for Process Improvement (SCAMPI) is an invaluable tool for organizations seeking to drive quantifiable improvements in systems and software engineering. SCAMPI appraisals can help those organizations identify the strengths and weaknesses of their current processes, reveal crucial development and acquisition risks, set priorities for improvement plans, derive capability and maturity level ratings, and even perform realistic benchmarking. These appraisals are rapidly becoming a core criterion in awarding major government and defense contracts. Thousands of professionals in all sectors are being called upon to participate in them for the first time.

CMMI® SCAMPI SM Distilled, leading appraisers and quality experts from the Software Engineering Institute (SEI) and their partners in industry explain the nature and benefits of SCAMPI. Drawing on their direct and extensive experience, they demonstrate how SCAMPI works in the real world—and how to overcome obstacles that often get in the way of a successful appraisal.

The authors outline the role of appraisals as part of a comprehensive, state-of-the-art approach to process improvement, showing how SCAMPI integrates with quality initiatives, international standards, and other CMMI models and methods. They introduce SCAMPI Class A, B, and C, as well as SCAMPI modes for process improvement, supplier selection, and process monitoring. They guide the reader through the entire appraisal process: preparation; on-site activities; preliminary observations, findings, and ratings; final reporting; and follow-on activities. The authors also address crucial management issues faced by organizations involved with appraisals. Coverage includes: leveraging appraisals in organizations with immature processes; conducting cross-discipline appraisals; performing appraisals concurrently with other quality initiatives; and responding to customer-driven needs.

Whether you're a manager, team leader, acquisition specialist, quality specialist, or appraiser, this book will help you use SCAMPI to achieve your real goals: dramatically improved processes and better systems and software with fewer defects.
Password
:
www.AvaxHome.ru
Download from Rapidshare
Бонус | Bonus
My other uploaded eBooks (1900+) - links and descriptions
Другие книги, закаченные мной (более 1900) - ссылки и библиографические данные
New!
version 6 (May 03 2006) [1,1 Mb] | Format: txt
Download eBooks list from Mytempdir
Download eBooks list from Rapidshare
If you need a book from the list but the link doesn't work
anymore, send me a message. Also write me about dead links in my other posts, please.
Если Вам необходима книга из списка, а ссылка на нее не работает, то отправьте мне сообщение. Также пожалуйста отправляйте мне сообщения о нерабочих ссылках в моих постах.