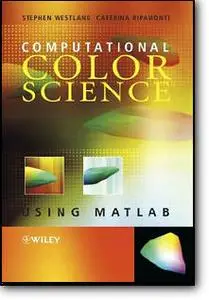 Stephen Westland, Caterina Ripamonti, «Computational Colour Science using MATLAB»
Wiley | ISBN 0470845627 | 2004 Year | PDF | 1,79 Mb | 220 Pages
Presenting a practical, problem-based approach to colour physics, this title describes the key issues encountered in modern colour engineering, including efficient representation of colour information, fourier analysis of reflectance spectra and advanced colorimetric computation. Emphasis is placed on the practical applications rather than the techniques themselves, with material structured around key topics, such as colour calibration of visual displays, computer recipe prediction and models for colour-appearance prediction.

Each topic is carefully introduced at three levels to enhance student understanding. Firstly, theoretical ideas and background information are discussed, explanations of mathematical solutions then follow and finally practical solutions are presented using MATLAB.

- Includes a compendium of equations and numerical data required by the modern colour and imaging scientist.
- Numerous examples of solutions and algorithms for a wide-range of computational problems in colour science.
- Provides example scripts using the MATLAB programming language.

This text is a must-have for students taking courses in colour science, colour chemistry and colour physics as well as technicians and researchers working in the area.
Password
:
www.AvaxHome.ru
Download from Rapidshare
Бонус | Bonus
My other uploaded eBooks (1900+) - links and descriptions
Другие книги, закаченные мной (более 1900) - ссылки и библиографические данные
New!
version 6 (May 03 2006) [1,12 Mb] | Format: txt
Download eBooks list from Mytempdir
Download eBooks list from Rapidshare
If the book from the list is necessary for you, and the link to her does not work, send me the message. Also please about the dead links in my posts send me the message.
Если Вам необходима книга из списка, а ссылка на нее не работает, то отправьте мне сообщение. Также пожалуйста отправляйте мне сообщения о нерабочих ссылках в моих постах.