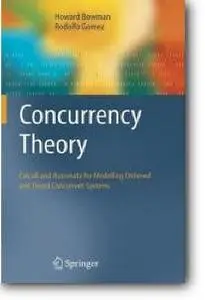 Howard Bowman, Rodolfo Gomez, «Concurrency Theory : Calculi an Automata for Modelling Untimed and Timed Concurrent Systems»
Springer | ISBN 1852338954 | 2005 Year | PDF | 2,15 Mb | 422 Pages
The book presents an extensive introduction to LOTOS highlighting how the approach differs from competitor techniques such as CCS and CSP. The notation is illustrated by a number of running examples and by using the LOTOS process calculus a spectrum of semantic models for concurrent systems are reviewed. Specifically, linear-time semantics; based on traces; branching-time semantics; using both labelled transition systems and refusals, are used to highlight true concurrency semantics using event structures. In addition to this a simple timed extension to LOTOS is introduced using running examples, allowing consideration of how the untimed semantic models – traces, labelled transition systems, refusals and event structures – can be generalised to the timed setting. The authors also generalise the simple communicating automata notation to yield timed automata with multi-way synchronisation using model-checking verification methods and new techniques to prevent time-locks from arising.
Password
:
www.AvaxHome.ru
Download from Rapidshare
Бонус | Bonus
My other uploaded eBooks (1900+) - links and descriptions
Другие книги, закаченные мной (более 1900) - ссылки и библиографические данные
New!
version 6 (May 03 2006) [1,1 Mb] | Format: txt
Download eBooks list from Mytempdir
Download eBooks list from Rapidshare
If you need a book from the list but the link doesn't work
anymore, send me a message. Also write me about dead links in my other posts, please.
Если Вам необходима книга из списка, а ссылка на нее не работает, то отправьте мне сообщение. Также пожалуйста отправляйте мне сообщения о нерабочих ссылках в моих постах.