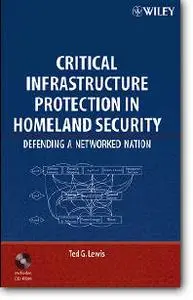 Ted G. Lewis, «Critical Infrastructure Protection in Homeland Security : Defending a Networked Nation»
Wiley-Interscience | ISBN 0471786284 | 2006 Year | PDF | 4,77 Mb | 474 Pages
This book offers a unique scientific approach to the new field of critical infrastructure protection: it uses network theory, optimization theory, and simulation software to analyze and understand how infrastructure sectors evolve, where they are vulnerable, and how they can best be protected. The author demonstrates that infrastructure sectors as diverse as water, power, energy, telecommunications, and the Internet have remarkably similar structures. This observation leads to a rigorous approach to vulnerability analysis in all of these sectors. The analyst can then decide the best way to allocate limited funds to minimize risk, regardless of industry sector.

The key question addressed in this timely book is: What should be protected and how? The author proposes that the answer lies in allocating a nation's scarce resources to the most critical components of each infra-structure-the so-called critical nodes. Using network theory as a foundation, readers learn how to identifya small handful of critical nodes and then allocate resources to reduce or eliminate risk across the entire sector.

A comprehensive set of electronic media is provided on a CD-ROM in the back of the book that supports in-class and self-tutored instruction. Students can copy these professionally produced audio-video lectures onto a PC (Microsoft Windows(r) and Apple Macintosh(r) compatible) for repeated viewing at their own pace. Another unique feature of the book is the open-source software for demonstrating concepts and streamlining the math needed for vulnerability analysis. Updates, as well as a discussion forum, are available from www.CHDS.us.

This book is essential for all corporate, government agency, and military professionals tasked with assessingvulnerability and developing and implementing protection systems. In addition, the book is recommended for upper-level undergraduate and graduate students studying national security, computing, and other disciplines where infrastructure security is an issue.
Password
:
www.AvaxHome.ru
Download from Rapidshare
Бонус | Bonus
My other uploaded eBooks (1900+) - links and descriptions
Другие книги, закаченные мной (более 1900) - ссылки и библиографические данные
New!
version 6 (May 03 2006) [1,1 Mb] | Format: txt
Download eBooks list from Mytempdir
Download eBooks list from Rapidshare
If you need a book from the list but the link doesn't work
anymore, send me a message. Also write me about dead links in my other posts, please.
Если Вам необходима книга из списка, а ссылка на нее не работает, то отправьте мне сообщение. Также пожалуйста отправляйте мне сообщения о нерабочих ссылках в моих постах.